What is Shea Butter?
Shea butter is simply the fat extracted from the African Shea tree nut (Vitellaria Paradoxa). The original color of Shea butter is yellow when raw or unrefined, but changes to white after refining processes. Shea butter is a triglyceride in nature.
Shea butter is been used in the cosmetics industry as a lotion and moisturizer. It is also useful in beverage industries in the making of cocoa butter. Shea butter is a good and eatable product and many in the African world use it in their cooking.
Shea butter and Shea Oil are both important materials in the cosmetics industries. The two are used in the production of many products such as; skin and hair creams, skin moisturizer creams, hair conditioners, lip gloss, and many others.
Soap makers also make use of Shea oil in soap making to make soaps and this increases cleaning abilities. Also, Shea butter can be applied directly to skin and hair that suffer from dryness.
Basic Facts About Shea Butter From Nigeria & Africa
Nigeria is one of the leading exporters of Shea butter in the world.
Shea butter and Shea Oil are in great demand all over the world.
Shea butter is grown in about 21 States of the 36 available in Nigeria.
Shea butter exporting has a probability of making a high-profit margin depending on the exporting dealer used.
China is the leading importer of Shea butter in the World.
A data from Tridge.com shows the rank of countries with the highest producers of shea nuts in the global market.
Nigeria with 39.87% (302.96k metric ton)
Mali – 29.76% (226.09k metric ton)
Burkina Faso – 18.43% (140.04k metric ton)
Ghana – 4.18% (31.59k metric ton)
Ivory Coast – 4.16% (31.59k metric ton)
Benin – 1.83% (13.91k metric ton)
Togo – 1.76% (13.39k metric ton)
Shea butter produced in Nigeria has a very good quality and is abundant in quantity, especially during the peak period (June – November). This availability of the raw produce helps international buyers get it at a competitive price.
There is a very large demand for agricultural produce in Nigeria, with many international buyers always looking for products that are cheap and are of the best quality.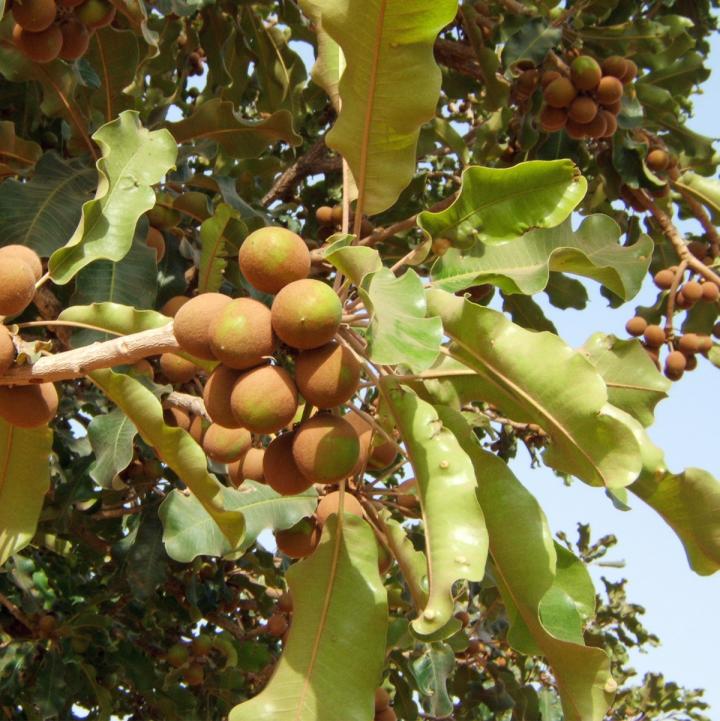 Three Major Types Of Shea Butter Exported From Nigeria
Shea butter usually comes in one of three forms: it can be raw, semi-processed or it can be further processed by the buyer upon arrival at its destination.
1. The Unrefined Shea Butter
This is extracted directly and has not undergone any processing steps. It is natural and has no additional substance. The natural Shea butter is soft and in varying yellowish color. This is the best of all types to use when it comes to moisturizing skin and hair and also for healing purposes. It has all its natural strength as it has not been altered and diluted by industries.
2. The Refined Shea Butter
This Shea butter has been through some processing thereby losing the natural color, smell, and other natural strengths. It is heated to a very high temperature causing it to bleach and deodorize. This heat will cause the Shea butter to lose some effective ingredient present in it.
3. The Ultra-Refined Shea Butter
At this stage, the Shea butter would have gone through two or more filtering, this will make it change the original composition. The color would have changed to white. It is a major material in the production of many cosmetics products. The filtering processes would have removed some of the natural healthy nutrients, making it less healthy for consumption. Also, some of the addictive added during the process can make it unhealthy for consumption's sake.
How To Buy Shea Butter/Shea Nuts In Nigeria
As an international buyer, one of the best ways for you to buy Shea butter and Shea nuts from Nigeria is by partnering with an export company like Neogric. Exporting is easier and Nuts are gotten at competitive prices to help you maximize profits.
The exporting company will help with the collection of Shea nuts locally and proper sanitation and cleaning will be done to prevent pest and disease infection.
There are few things to note when collaborating with an exporting company in Nigeria; they are listed below:
The exporting company must have registered with the Corporate Affairs Commission (CAC) to make sure the company is registered and permitted to carry out business operations.
The exporting company must also be registered with the Nigerian Export Promotion Council (NEPC).
The company must possess a domiciliary account to accept international payments.
The company must possess a federal phytosanitary certificate. This is to make sure that the nuts are exportable. This certificate is also needed for all other exporting.
Import Shea Butter The Right Way With Neogric
Neogric is a trusted export company with deep expertise in the shea butter industry. We possess all the export requirements and can help export shea butter and shea nuts to a lot of countries and regions in the world including Europe, Asia, USA and Canada.
We carry out our Shea Butter export business in a totally transparent manner, and we will therefore not transact with any buyer who intends to deal fraudulently or who wants to outsmart any party in the course of the transaction.
If you are a genuine Shea Butter buyer, fill the form below and tell us about your shea butter needs. We will be glad to help you export Shea butter based on mutually agreed terms.
Our Shea Butter & Shea Nuts Trade Specifications are listed below:
Origin: Nigeria
Product Type: Shea Butter & Shea Nuts
Physical Specification: Based On Buyer's Specification
Quantity: Based On Buyer's Specification
Price: Negotiable / Metric Tonne
Trial Order: 5 Metric Tonnes
Trade Process: FOB/CIF
Payment Method: 100% irrevocable & confirmed L/C at sight
Shipping Time: 15 to 25 days after confirmation of L/C
Loading Port: Lagos, Nigeria
Specifications
Type: Grade A 100% Natural, Organic, & Unrefined
Colour: Beige/White/Yellow
Inspection: SGS
Expected Shipping Documents
– Bill of Lading
– Certificate of Origin
– SGS Inspection Certificate
– Phytosanitary Certificate
– Fumigation Certificate
– Commercial Invoice
– Packing List
To Contact:
Tel: +2347032777979
WhatsApp: +2348147860157
Email: sales@neogric.com