What is Cashew Nut Kernels?
The cashew tree (Anacardium occidentale) is a tropical evergreen tree that produces the cashew seed and the cashew apple accessory fruit. The tree can grow as high as 14 m (46 ft), but the dwarf cultivars, growing up to 6 m (20 ft), prove more profitable, with earlier maturity and greater yields. The cashew seed is commonly considered a snack nut (Cashew Nut Kernels) eaten on its own, used in recipes, or processed into cashew cheese or cashew butter. Like the tree, the nut is often simply called cashew. Cashew allergies are triggered by the proteins found in tree nuts, and cooking often does not remove or change these proteins.
Cashews are a kidney-shaped seed sourced from the cashew tree — a tropical tree native to Brazil but now cultivated in various warm climates across the world. While "raw" cashews are widely sold, truly raw cashews are not safe to eat, as they contain a substance known as urushiol, found in poison ivy. Urushiol is toxic, and contact with it can trigger a skin reaction in some people. Cashew kernels are cooked in processing to remove this toxic liquid, and this resulting product is sold as "raw". Although commonly referred to as tree nuts, and nutritionally comparable to them, cashews are really seeds. They're rich in nutrients and beneficial plant compounds and make for an easy addition to many dishes. Like most nuts, cashews may also help improve your overall health. They've been linked to benefits like weight loss, improved blood sugar control, and a healthier heart.
The Origin, Spread and Uses of Cashew Nut Kernels
Culinary uses for cashew seeds in snacking and cooking are similar to those for all tree seeds called nuts. Cashews are commonly used in South Asian cuisine, whole for garnishing sweets or curries, or ground into a paste that forms a base of sauces for curries (e.g., korma), or some sweets (e.g., kaju barfi). It is also used in powdered form in the preparation of several Indian sweets and desserts. In Goan cuisine, both roasted and raw kernels are used whole for making curries and sweets.
Cashews are also used in Thai and Chinese cuisines, generally in whole form. In the Philippines, cashew is a known product of Antipolo, and is eaten with suman. The province of Pampanga also has a sweet dessert called turrones de casuy, which is cashew marzipan wrapped in white wafers. In Indonesia, roasted and salted cashews are called kacang mete or kacang mede, while the cashew apple is called jambu monyet (lit. 'monkey rose apple').
In the 21st century, cashew cultivation increased in several African countries to meet the demands for manufacturing cashew milk, a plant milk alternative to dairy milk. In Mozambique, bolo polana is a cake prepared using powdered cashews and mashed potatoes as the main ingredients. This dessert is popular in South Africa. In Brazil, cashew fruit juice and the fruit pulp are used in the production of sweets, juice, mixed with alcoholic beverages such as cachaça, and as a flour, milk, or cheese. In Panama, the cashew fruit is cooked with water and sugar for a prolonged time to make a sweet, brown, paste-like dessert called dulce de marañón (marañón being a Spanish name for cashew).
Cashew Nut Kernels Oil
The shell of the Cashew Nut Kernels contains oil compounds that can cause contact dermatitis similar to poison ivy, primarily resulting from the phenolic lipids, anacardic acid, and cardamom. Due to the possible dermatitis, cashews are typically not sold in the shell to consumers. Readily and inexpensively extracted from the waste shells, cardanol is under research for its potential applications in nanomaterials and biotechnology.
Cashew Nut Kernels oil is a dark yellow oil derived from pressing the Cashew Nut Kernelss (typically from lower value broken chunks created accidentally during processing), and is used for cooking or as a salad dressing. The highest quality oil is produced from a single cold pressing. Discarded Cashew Nut Kernels unfit for human consumption, alongside the residues of oil extraction from cashew kernels, can be used to feed livestock. Animals can also eat the leaves of cashew trees.
As well as the nut and fruit, the plant has several other uses. In Cambodia, the bark gives a yellow dye, the timber is used in boat-making, and for house-boards, and the wood makes excellent charcoal. The shells yield a black oil used as a preservative and water-proofing agent in varnishes, cements, and as a lubricant or timber seal. Timber is used to manufacture furniture, boats, packing crates, and charcoal. Its juice turns black on exposure to air, providing an indelible ink.
What's The Harvest Season for Cashew Nut Kernels?
Cashews are usually harvested between February – May. The nuts start to develop after about eight weeks following pollination. The nuts should be harvested as soon as possible and should be dried before storage. Cashews only produce after the third year of planting and can go on producing for about ten years.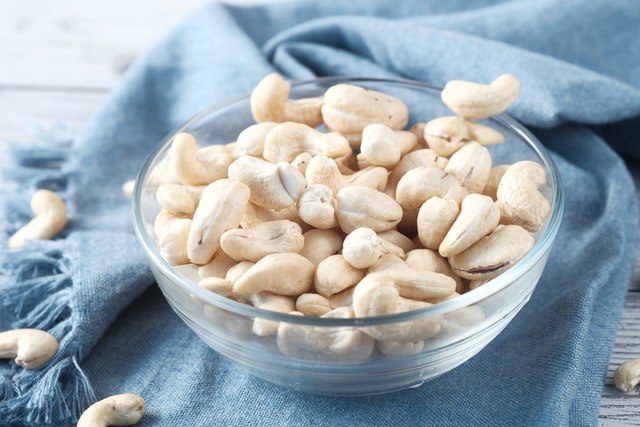 Health Benefits of Cashew Nut Kernels
The following highlights its many benefits and the kinds of activity it is believed to:
Help you lose weight
Improve heart health
Effective for people with type 2 diabetes
Helps Bone health
Reduces Gallstones
Prevent cardiovascular diseases
Help lower the blood pressure
Immunity booster
May help strengthen bones
Help boost brain functions
Beneficial for hair
Good for eye health
May increase male fertility
Top Exporting & Importing Countries Of Cashew Nut Kernels
Below are the Cashew Nut Kernels exporting and importing countries:
Vietnam 66.46%
India 9.28%
Netherlands 6.07%
Germany 4.59%
Ivory Coast 2.51%
Brazil 2.07%
Mozambique 1.19%
Indonesia 1.04%
Nigeria 0.69%
Some of the leading importers of Cashew Nut Kernelss are:
United States 27.2%
Germany 12.12%
Netherlands 8.34%
China 3.68%
United Kingdom 3.65%
Vietnam 3.53%
France 2.92%
Australia 2.69%
United Arab Emirates 2.67%
Get Your Agric Products Safely, Quickly And Cheaply
Click the button below and tell us which product you need. We will be glad to help you export them based on mutually agreed terms.
How To Safely Source for Your Produce
If you find the right export company, buying directly from them can make the purchase process easy and stress-free, when compared with doing the sourcing on your own. That said, there are few things to note when dealing with an export company in Nigeria or Africa. The specific requirements for Nigeria are listed below, but they mostly apply to other African countries:
The exporting company must be registered with the Corporate Affairs Commission (CAC) to make sure the company is registered and permitted to carry out business operations.
The export company must also be registered with the Nigerian Export Promotion Council (NEPC).
The company must possess a domiciliary account to accept international payments.
The company should get all necessary export-related documentation done before the shipment leaves the port of origin. Some of the documents are:
Certificate of origin
Bill of lading
Inspection Certificate (SGS, Cotecna, Bureau Veritas, Intertek, etc)
Phytosanitary certificate
Fumigation certificate
Where To Find Reliable Exporters
An important question that still needs to be answered is how to find Cashew Nut Kernels exporters in Nigeria. You can use any of the methods listed below:
Attend trade fairs
Use search engines like Google, Yahoo, etc.
Search for agents on Linkedln
Sign up on trade platforms (e.g. Alibaba, Tradeford, Go4WorldBusiness)
Neogric offers a reliable global order fulfilment solution for Cashew Nut Kernels and other agric produce. Our end-to-end supply chain solution makes the export of quality Cashew Nut Kernels easy, quick and safe. From the point of placing your order till it successfully gets delivered, we ensure you have nothing to worry about.
Price Of Cashew Nut Kernels
The unit price of Cashew Nut Kernels depends on a host of different factors including:
The grade of the produce (usually the more the processing, the higher the price)
The price of the raw material
Age of the seeds (this can affect the price)
The quantity ordered (the greater the quantity, the cheaper you can get it per ton)
Harvest season (it is more costly when it is out of harvest season).
Freight & haulage cost
Percentage of markup
Import duties
Distance from the country of origin
Technology/Infrastructure available in country of origin
Relationship between the buyer and seller
That said, as at January 2022, the price of Cashew Nut Kernels is USD 10.52/Kg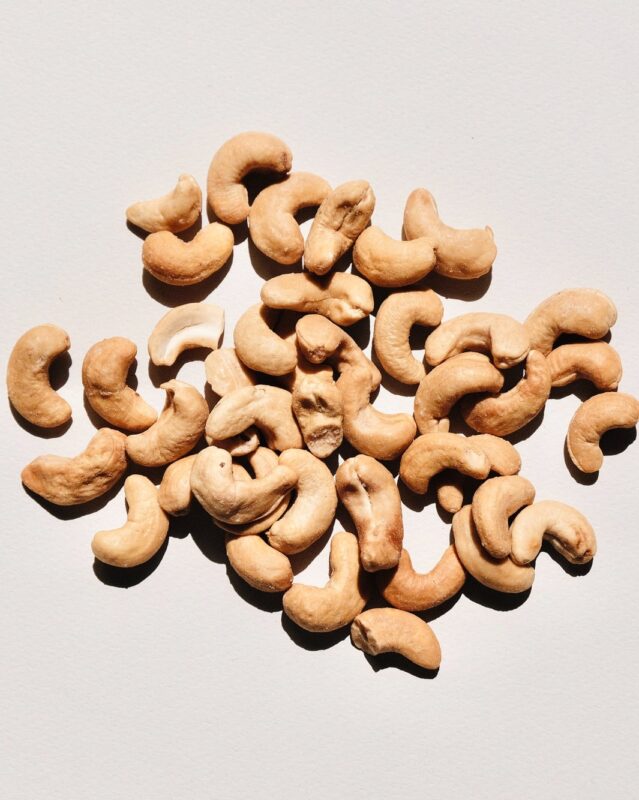 How To Pay For Your Cashew Nut Kernels
You can pay for your Cashew Nut Kernels using different methods, but three of the popular ways of paying for your agric produce are:
Bank (T/T) Payment
Advance Payment
Letter of Credit (LC)
Bank Payment (T/T)
Bank payment is also known as T/T, "Telegraphic Transfer" or "Telex Transfer" In other words, it is an international wire of funds from the buyer's bank to the seller's bank.
A T/T is technically not the same as a wire transfer, which is often done through the SWIFT network. However, when a seller or supplier asks for a T/T payment, a wire transfer is what they are really asking for.
The wire transfer based on the SWIFT system is the most common payment method in international trade. Typically, it takes 3-5 working days to clear, and generally costs between 25 and 50 USD, depending on your agreement with the commercial department in your bank.
Advance Payment
There are sellers that will demand anywhere from 30% to 50% advance payment, and for good reason. If both parties have done deals in the past, sellers can ask for a percentage of the sales (about 30%) before they ship the produce and they can request for the remaining amount after a scanned copy of the Bill of Lading has been sent to the buyer.
It is the safest option for exporters and it also guarantees that they will have some funds to help with sourcing. It is popular among manufacturers on B2B marketplaces like Alibaba and also with commodity traders.
However, advance payment carries considerable risk for the importer (buyer) because the exporter (seller) might not be under as much pressure to ensure quality checks compared with a stricter form of payment. Some might even disappear entirely.
Having said that, advance payment is very useful and is widely used. For instance, the seller might need to secure the commodity in the face of increased competition. It can also be used when the exporter needs some money for sourcing the produce or for processing raw materials.
The most important thing is for both importer and exporter to build mutual trust by having a track record of successful deals with each other or other known companies.
Letter of Credit (L/C)
Letter of Credit is an agreement generated by the bank of the buyer, guaranteeing payment once certain conditions are met. It is one of the safest types of payment available to both buyer and seller.
Some of the types of Letter of Credit are:
Commercial Letter of Credit,
Sight Letter of Credit
Transferrable or Non-Transferable Letter of Credit
Standby Letter of Credit (SBLC)
Usance or Deferred Payment Letter of Credit
Revocable or Irrevocable Letter of Credit
Confirmed or Unconfirmed Letter of Credit
Revolving Letter of Credit
Green Clause Letter of Credit
Red Clause Letter of Credit
L/Cs are not totally safe (for either buyer or seller) too. For instance, sellers can ship substandard products or those that are different from the ones agreed upon. In this case, the seller gets paid and the buyer receives good he cannot use.
And speaking of the dangers of L/Cs for the exporter, the conditions in the Letter of credit might be practically impossible to fulfil; if an exporter agrees to such, he might be unable to receive payment. A report stated that of the letters of credit received in the UK, 50% are unworkable while 70% are rejected by the banks for payment.
Shipping & Delivery Terms
When shipping your products, it is important to take note of a few factors:
Order Quantity
For smaller shipments, airfreight is often the preferred option but as the order volume increases, sea freight could become significantly cheaper. Usually when the order is close to a full container load (20 ft), sea freight is used. Despite all these, the Covid-19 pandemic has caused an increase in cost of delivery of products.
Cost of Delivery
When the order is of a large volume, sea freight often turns out cheaper than air freight. In fact, airfreight could be up to 6 times more costly than sea freight if the volume is large enough.
Time of Delivery
Sometimes, time will be more important to the buyer than the cost of delivering the produce. In this case, air freight will be the logical option (as stated above, the cost will be more). But if you have more time as a buyer, you should strongly consider using sea freight.
Incoterms
Incoterms refer to generally accepted shipping and payments terms. For example, buyers that have representatives in the source country or that can negotiate with the freight company can use the Free of Board (FOB) terms, since it gives them more control and can save them some money.
However, if the shipment is small or the buyer doesn't have an extensive network to effectively handle payment for freight, insurance and port charges, he will be better off choosing the Cost-Insurance-Freight (CIF) payment option. You can find out more about Incoterms here.
Import Your Cashew Nut Kernels The Right Way with Neogric
Neogric is a trusted global order fulfilment and sourcing solution company with deep expertise in the Cashew Nut Kernels industry. Our end-to-end supply chain solution makes the export of quality Cashew Nut Kernels easy, quick and safe. Whichever region of the world you are, be it Europe, Asia, USA, Canada, Africa, South America or Oceania, you can reliably order your agric products and we will ensure it is successfully delivered to you.
Our Cashew Nut Kernels trade specifications are listed below:
Origin: Nigeria
Product Name: Cashew Nut Kernels
Product Types: Nil
Physical Specification: Based On Buyer's Specification
Quantity: Based On Buyer's Specification
MOQ: 20 Metric Tonnes
Trade Process: Ex Works/FOB/CIF
Inspection: SGS/Cotecna/Intertek/Bureau Veritas
Packaging: Based On Buyer's Specification
Payment Method: TT (Bank Transfer) or L/C
Shipping Time: 15 to 25 Days After Confirmation of TT or L/C
Loading Port: Lagos, Nigeria or Tema, Ghana
Expected Shipping Documents
Bill of Lading
Certificate of Origin
SGS Inspection Certificate
Phytosanitary Certificate
Fumigation Certificate
Commercial Invoice
Packing List
Contact Us
Tel: +2348147860157
Email: neo@neogric.com
WhatsApp:
Place Your Cashew Nut Kernel Order
Click the button below and tell us about your Shea Nut Kernel needs. We will be glad to help you export Cashew Nut based on mutually agreed terms.